Jun. 21, 2019
Comparison between ordinary oil filter and vacuum oil filter
Ordinary oil filter
Ordinary Oil Purification Machine is a mobile device composed of filter bed, oil pump and coarse filter.
The filter bed can be operated continuously to press dirty oil into the side filter under pressure. The filter is composed of a complete set of alternately arranged filter plate and filter frame and a mechanism including manual screw pressure device and pressure plate. Filter plate and filter box (small ring) between the cushion have as filter medium filter paper (or filter cloth), borrow compaction device, the pressure of the filter plate and filter box compression on the center of the fixed tube and movable clamp plate, so as to form a single filter chamber, and pressure in the filter plate and filter frame between filter paper or filter cloth filter effect. The dirty oil is imported from the center and filtered through the filtration chamber to extract clean oil from another corresponding channel of the filter plate.
Vacuum oil filter can efficiently remove the free water and solid pollutants in oil based products such as hydraulic oil, lubricating oil, gas turbine oil, and so on.
The oil filter can remove free water in the medium through the process of demulsification, coalescence and separation. The content of free water in the treated medium is less than 200PPM, and the limit is less than 100PPM. It can also filter out solid particles in the medium. Control oil cleanliness, can achieve the filter medium of solid particles. Control the cleanliness of oil, can reach the NAS4 pole or higher. (note: the equipment is not suitable for low water requirements, such as removal of dissolved water. One solution at this point is to use the production series of coaled-negative pressure oil filters, which quickly remove large amounts of water from the oil and eventually reduce the water content to 100PPM, or less than 5PPM at the limit.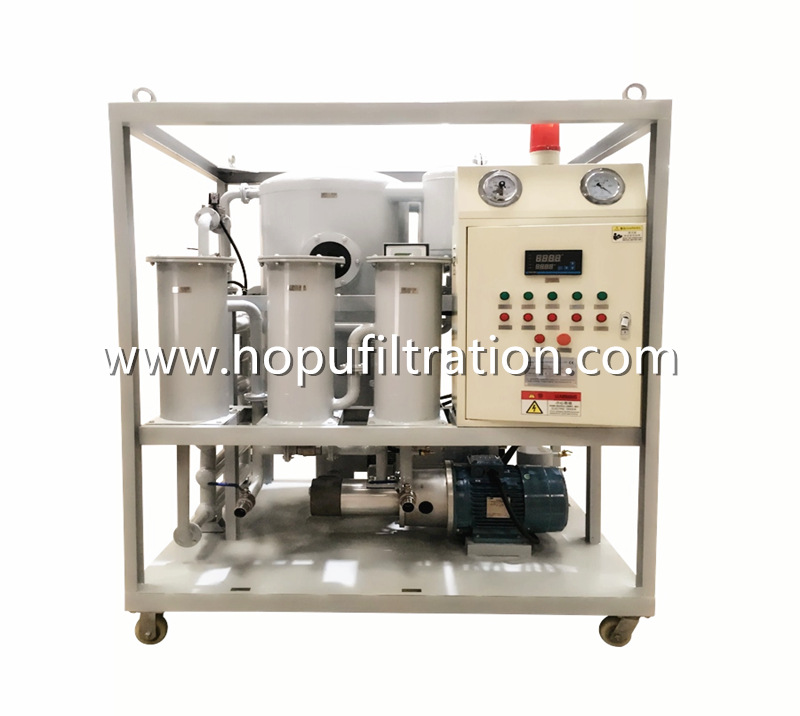 We are an enterprise specializing in the production of oil filter, filter core, filter, filter equipment, testing equipment. Company strength, advanced production equipment, technology and testing facilities perfect. We have our own research and development team, specializing in the development and production of brand products, for the prosperity of China's filter industry has made a certain contribution. The company also has a perfect network sales system, professional and enthusiastic sales team, to provide perfect quality service for customers at home and abroad, by customers praise, set up a superb business, efficient management, service first, excellent results of the corporate image.